Minimalist Bedroom Room Tour
Just because you want to pursue minimalism doesn't mean you have to live in cold, sparse spaces that lack character or charm.  Walls don't have to be white, tables don't have to be empty, and spaces don't have to seem sterile.  Minimalism is about removing the stuff you don't need so that you can love and appreciate what you have.  Our minimalist bedroom is a perfect example of a space that was decluttered, but far from cozy or inviting.
When we bought our property to renovate six years ago, there was so. much. work. to. do.  With so many spaces to prioritize and renovate, any room that was move-in ready was left alone.  We moved our furniture and belongings into the master bedroom and hadn't done anything with the room since then.
I went through the decluttering process a few times and it became pretty simplified, but it never looked good. As a matter of fact, it was pretty terrible.  Luckily for me, my project time was just around the corner!
DIY Supply & Shopping Guide:
Spackling– great for patching holes, knocks in the walls for a smooth painting surface.
Metal putty knives– 3 sizes for various needs
Arm chair– we added a chair to give dimension to the space and create a nice nook for reading or working.
His & hers dressers– we use tables like these as bedside tables, but they also double as individual clothing dressers
My Minimalist Bedroom Motivation
Every spring my husband travels on a mission trip with an amazing nonprofit called Mission Ahava. Their focus is to rescue the most vulnerable children of the world and to show them the love of Jesus.  These babes get a safe home, an education, and a future.
This year Mission Ahava traveled to Thailand and Cambodia to partner with Sending Hope International to start a home for girls in Cambodia. Ryan was gone for eleven days, which can certainly feel like an eternity with young babies at home!
In an effort to help pass the time, I always work on a home project.  It's exciting to do some spring DIY and I love surprising Ryan with my work when he returns.
You mamas know this obviously wasn't a solo effort, because babies.  My mom stayed with me to help with the kiddos, my mother-in-law helped with the design and shopping, and my father-in-law took charge of the wood accents & installation.
I am beyond thrilled with how it all turned out!  Ryan was shocked at the transformation.  He said it feels like a literal breath of fresh air every time he goes into the bedroom.  I have affectionately dubbed it our minimalist bedroom oasis.
So, here's the step-by-step guide to how I converted our lackluster master space into a gorgeous sleeping sanctuary.
1. Declutter the space
If you're pressed for time, you can tackle this job with my no-nonsense decluttering approach.  However, I used my preferred decluttering method and completely emptied the space before decluttering.  I also decided to wash the carpets while the room was empty.  That's always a great spring cleaning decision!  Decluttering is the quickest way to begin creating a minimalist bedroom.
2. Prep walls & paint
Having bought a foreclosure, our walls were not in the best condition.  There were several places where the drywall was damaged and patching was necessary. It takes a fair amount of time to spackle and feather out the rough patches, but the effort is always worth it in the end.
When determining a paint color, we considered what elements would remain in the room.  We have a king-size upholstered bed frame that we decided not to replace at this time.  Because it's a large furniture piece in the room, we color matched the paint swatches to the bed.
Once we knew which color matched the fabric, we selected a coordinating color off of the paint swatch to use on the walls.  By doing so, we ensured that the new wall color would have the same undertones as the bed.  This helped them communicate well together in the room.  If you're curious about our color, we selected Deja Vu by Benjamin Moore.
You can apply this same technique if you have a major furniture element in your room you'd like to keep.  Keeping large color elements in the same color palette as the walls will help the eye rest and make the space feel more cohesive.  Of course, you can still add other colors through additional elements and accents. We'll touch on this in a bit.
3. Consider each furniture piece
Our room was already pretty minimized prior to the redesign.  We had previously decluttered many clothing items, which enabled us to get rid of the large dresser we had in the room.  We had already purchased the two small antique dressers that we use as nightstands (these double as dressers for our undergarments and pajamas).  Basically, we had a bed and two nightstands in the room.  Minimalist?  Definitely.  Welcoming?  Definitely not.
As part of the redesign, we doubled the amount of furniture in the room by adding a console table, a comfortable recliner, and a side table.  While this may seem counterintuitive to the minimalist movement, it's really not.
Minimalism isn't about creating a bare-bones space, but about being intentional with your choices and creating a space that you love.
A minimalist space is a space that sparks joy and has in it only what you need.  And what I needed was a cute reading nook for reading the Bible & nighttime stories to our boys (wink, wink).
While I considered purchasing new side tables from IKEA, we decided we would save money by refurbishing the antique dressers with a fresh coat of white furniture paint. I'm so glad we opted to go this route because I love the look of these antiques.  There's something about old, well-made furniture that just makes my heart happy.
If antiques aren't your thing, these small dressers would also do the trick!
4. Add accent colors in the details
We decided to use white as an accent color in our minimalist bedroom.  I wanted a color that would pop against the blue/green walls, but it also needed to feel clean and crisp. White is a great minimalist color because it provides a neutral background for other elements.  We brought white in through picture frames, curtains, and bed linens. We found our curtains on closeout at Bed, Bath, and Beyond and scored the bed linens and throw pillows from Steinmart.
Another accent color I really wanted to incorporate was rose gold.  I am obsessed with shiny and love the warmth it brings to a space.  I love the color so much I even dyed my hair rose gold.  It was amazing. But I digress…
We opted to add rose gold through the use of accent picture frames, lamps on the side tables, a notebook, candles, and a pillow for the bed.  Little pops of color that are repeated around the room tie a design together and give the space a cohesive feel.
5. Decorate your walls
One idea I shared in my post on Minimalist Room Ideas was to create an accent wall.  It can be a great feature to add a lot of drama in a room without compromising floor space or spending a lot of money.
While too many items on walls can make a room feel claustrophobic, bare walls can make a room feel sterile.  To find a balance, I opted for a gallery wall of pictures of our family and some large photo prints above our bed.
If you'd like to incorporate a gallery accent wall into your space, be sure to check out my step-by-step tutorial to creating a gallery wall.
To create the accent wall, we utilized some natural grasscloth we had leftover from the dining room remodel that matched the bed frame perfectly (score!).  After hanging the paper, we designed a gallery wall and hung some of our favorite family shots from our crazy good photographer friend over at Jenn Shreve Photography.  If you live in the Cincy area, you should definitely check out her work!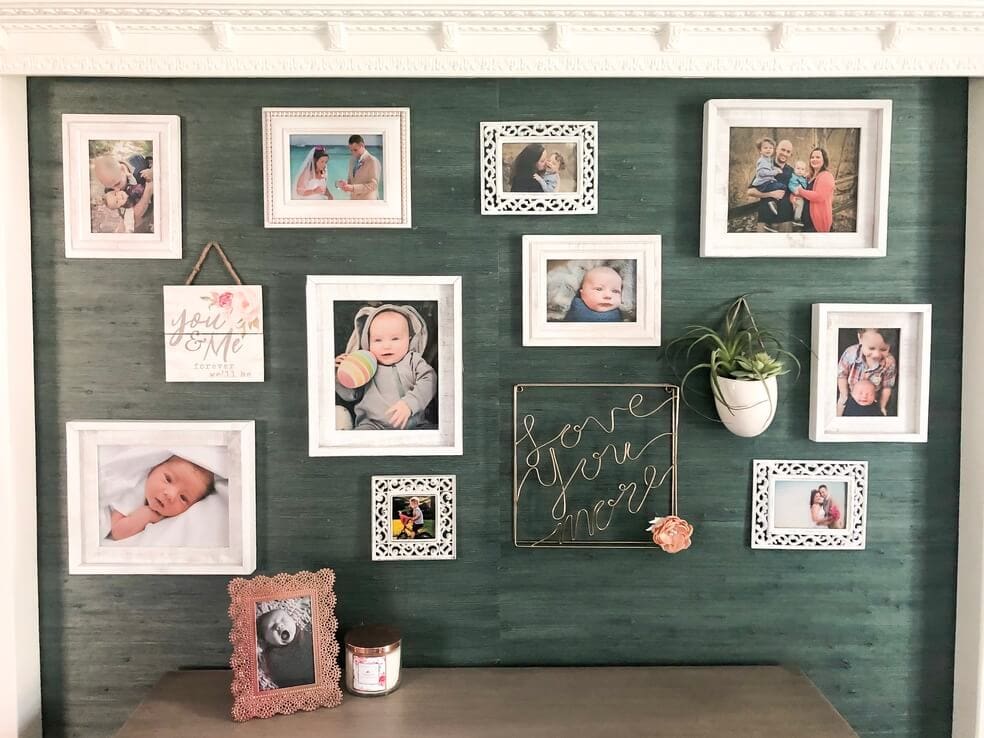 While we used grasscloth and wood features to create our gallery wall, the possibilities are endless!  There are lots of amazing ways you can create an accent wall to add some drama in your minimized space.
I originally purchased these 12×16 shadow boxes to create sweet memory boxes for each of our boys & our wedding, but after seeing how they looked with the simple, large prints, I decided to leave them as they were.
Note: I still wanted to create shadow boxes for the babes, so I ordered some from Michaels during their buy one, get one free sale.  Be sure to check out the tutorial on how to simplify your sentimental stash by making shadow boxes.
6. Add in accessories mindfully
A minimalist room is about making a space you love that has everything you need, and nothing you don't.  Accessories and details can add warmth and charm to a room, but they should not be added just because.  Remember, everything should be useful, beautiful, or both.  So, spend time shopping and watching for the perfect accents to come your way.
Accessories can also be added over time as you find a need or purpose for them.  I'm still looking to add the perfect tree to the corner of the room, some chunky candlesticks above the bed, and maybe an ivy of some kind above the gallery wall.  I have no problem waiting until I find the perfect something.
The level of accessorizing in a room is really unique to each individual, so spend time determining what your Goldilocks level of goodies looks like.  Ryan would prefer to have nothing on his side table, where I find that boring.  However, I also don't like a lot on my bedside table because I hate not having room to set stuff when I am turning in for the night.  You can always add an element or two, live with it a while, and adjust as necessary.
Room Tour: Minimalist Bedroom Before & Afters
(Click on a picture to view a full-size slide show)
Create Your Own Minimalist Bedroom
So, there you have it!  Six strategies I used to take our minimalist bedroom from ho-hum to oh, wow!  If you're inspired, be sure to incorporate these minimalist bedroom ideas into your own home and share your results with us on our Slow Motion Mama Facebook page!